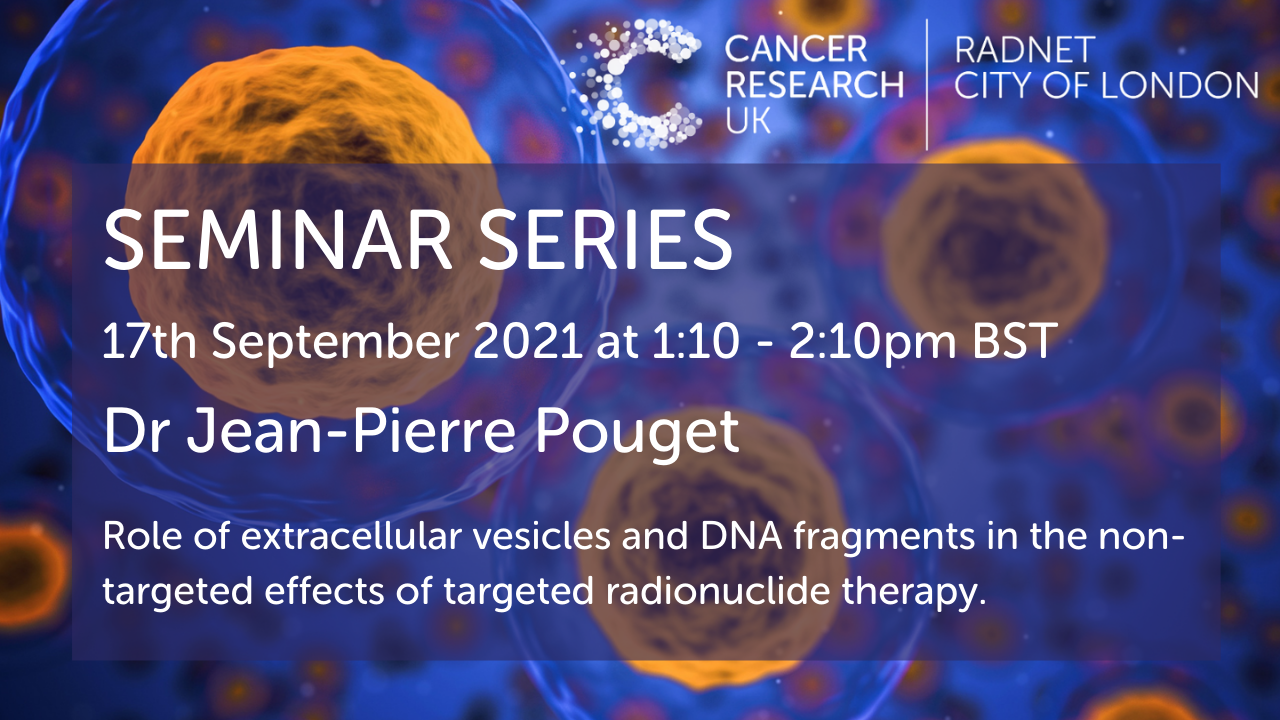 CRUK RadNet City of London Seminar Series #10
17th September 2021 at 1:10-2:10 pm BST
Hosted by Dr. Jane Sosabowski, Reader in Molecular Imaging QMUL and Dr. Samantha Terry, Senior Lecturer in Radiation Biology, we will be exploring the role of extracellular vesicles and DNA fragments in the non-targeted effects of targeted radionuclide therapy with guest speaker, Dr. Jean-Pierre Pouget from the Radiobiology for targeted & personalised adiotherapy lab at the French Institute of Health & Medical Research.
About our speaker:
Dr. Jean-Pierre Pouget is the Research Director of the French National Institute for Health and Medical research of Montpellier (INSERM) and leads their 'Radiobiology for targeted an personalised radiotherapy' lab.
His work is mainly focused on the radiobiology of radiopharmaceuticals used for cancer imaging and therapy ("targeted radionuclide therapy", TRT). More specifically, he investigates the role of the so-called targeted (radiative) and non-targeted (bystander and systemic/or immune) effects of TRT.
He has published more than 80 papers and book chapters dealing with radiobiology and radionuclide therapy and several patents. Besides research activity, Dr Pouget is involved in teaching at the University of Montpellier, INSTN Saclay, University of Grenoble and University of Marseille. He is also member of Frontiers in nuclear medicine and Current radiopharmaceuticals editorial boards. He is member of the EANM TMI & T committee and a founding member of the European working group in radiobiology of MRT (https://www.mrtradiobiology.com/people/working-group/) and of the French Society of Radiation Biology (SFBR).
To watch the seminar, please click here.