Patient Involvement and Public Engagement
Find out how we're using public engagement to improve patient outcomes, bridging the gap between our research and the wider scientific communities.
Alongside research and education, public engagement is essential for modernising and transforming research. Engaging with and learning from public audiences aids in training the next generation of researchers and clinicians, and helps inform the wider medical and scientific community.
By involving patients and embracing their insight through online or face-to-face events and activities, we can push boundaries and level up standards, increase clinical trial recruitment, and improve clinical practices.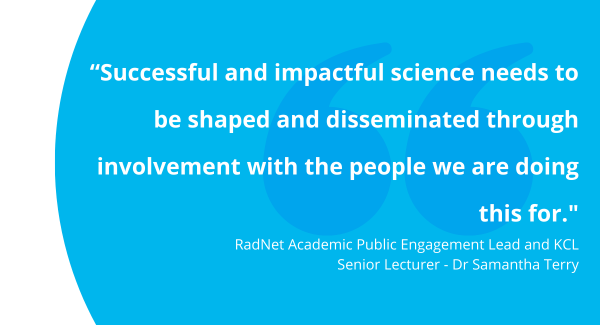 We manage RadNet City of London's Public Engagement strategy and activities. Our committees aims to engage with members of the general public and patients in discussions around radiotherapy to:
Determine public perceptions of radiotherapy
Support the public to make informed decisions about radiotherapy
Inform how we design therapies, particularly with regards to radiation oncology for children and novel radiation therapies
Understand mental health issues that arise in patients receiving radiotherapy
Disseminate cutting edge radiation research carried out using novel and targeted methods to communicate the themes and messages above
Beyond our Core PE Committee, we also have a wider PE Advisory Committee, which meets every six months to review our public engagement strategy.
RadNet Academic Public Engagement Lead and KCL Senior Lecturer: Dr Samantha Terry
UCL Public Engagement Manager: Simon Watt
KCL Public Engagement Manager: Alice Taylor-Gee
Crick Public Engagement Manager: Hana Dethlefsen
QMUL Public Engagement Manager: Sarah Barnes
UCL Communications and Marketing Manager: Naomi Britton
RadNet City of London Project Manager: Michelle Craft
Academic Public Engagement Lead and KCL Senior Lecturer: Dr Samantha Terry
KCL Public Engagement Manager: Alice Taylor-Gee
UCL Senior Research Fellow: Catarina Veiga
UCL Public Engagement Manager: Simon Watt
Crick Tumour Cell Biology Group Leader: Erik Sahai
Crick Public Engagement Manager: Hana Dethlefsen
QMUL Group Leader: Sarah-Anne Martin
QMUL Public Engagement Manager: Sarah Barnes
UCL Communications & Marketing Manager: Naomi Britton
RadNet City of London Project Manager: Michelle Craft
RadNet City of London executive board member (on rotation)