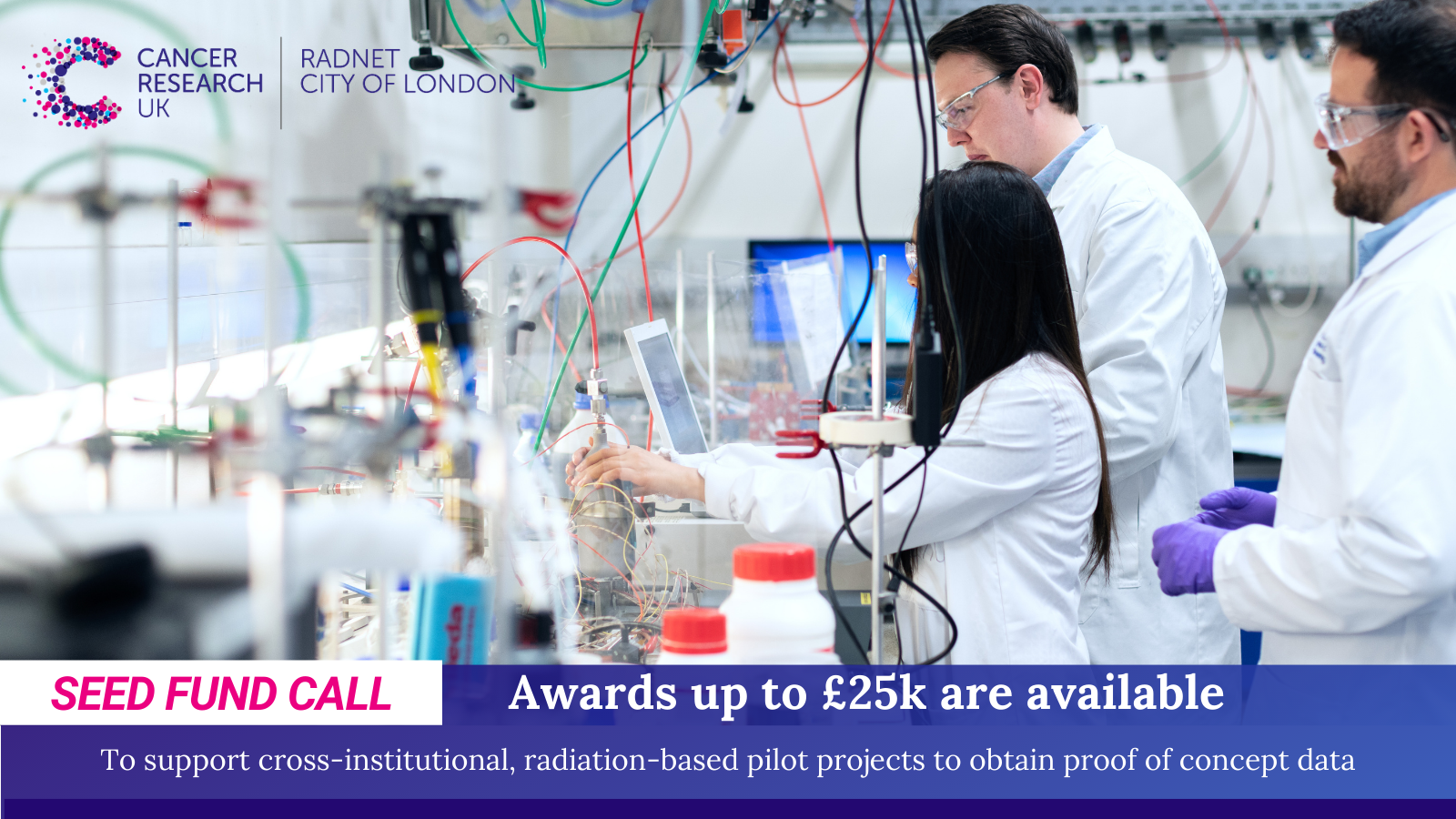 We are delighted to announce our 2021 seed funding call to pump-prime and support collaborative groups who are tackling the major challenges in radiobiology and radio-oncology. Our strategic priority is to stimulate collaborative, translational research and support cross-institutional, radiation-based pilot projects to obtain proof of concept data.
Key points are:
Seed Fund awards for up to £25,000 are available
Application Deadline: by end December 2020
Projects are expected to commence in March 2021
For expression of interest, please download this form and send it to the RadNet City of London Project Manager, Michelle Craft, on cruk-radnet-cityoflondon@ucl.ac.uk.
– Development of novel theragnostic radiopharmaceuticals for the imaging and treatment of the poor prognosis childhood cancer neuroblastoma.
Main Applicant: Mark Gaze (UCLH)
Co-Applicant(s): Samantha Terry (KCL) and Jane Sosabowski (QMUL)
We will radiolabel and evaluate paired antibody conjugates for imaging and molecular radiotherapy of neuroblastoma. The monoclonal antibody dinutuximab beta is a NICE-approved treatment for neuroblastoma. We will radiolabel with 89Zr for PET imaging and with 177Lu for therapy, using DFO and DOTA chelators. We will determine their cell targeting and radiobiological characteristics in cell culture models, and PET imaging in mice. This pilot work will enable grant applications for more detailed in vitro and preclinical studies and ultimately immuno-radiotherapy clinical trials.
 – BIGART-Glioma: Biological Image-Guided Adaptive Radiotherapy for Glioma
Main Applicant: Michael Kosmin (UCL/UCLH)
Co-Applicant(s): Sotirios Bisdas (NHNN/UCL), Sebastian Brandner (UCL), Spryos Manolopoulos (UCL) and Yen-Ch'ing Chang (UCLH)
Clinical outcomes for children and adults with primary brain tumours remain poor. Radiotherapy (RT) is delivered as one-size-fits-all, not taking into account biological heterogeneity. Multiparametric MRI provides information on tumour and normal brain and can inform adaptation based on early biological changes during RT. Techniques including proton beam therapy (PBT) can reduce radiation dose to normal brain cognitive networks whilst increasing RT to tumour regions. This work will guide the design of a future clinical trial of adaptive RT for glioma.
 – Elucidating the contribution of Polθ -mediated alternative NHEJ in hypoxia and radio-resistance
Main Applicant: Simon Boulton (Crick)
Co-Applicant(s): Peter Ratcliffe (Crick), David Mole (Oxford) and Aleksandra Vencevska (Crick)
Proteomic analysis of Polθ interactome in clinically relevant conditions such as g-irradiated and hypoxia exposed cells and characterization of the response to Polθ inhibitors. Functional characterization of Polθ interacting proteins and their role in genome stability. In silico analysis of DDR gene expression in hypoxia using available RNAseq data from hypoxia-exposed cancer cell lines.
 – Boosting anti-tumour immunity through Radiotherapy induced re-education of adoptively transferred monocytes
Main Applicant: Sergio Quezada (UCL)
Co-Applicant(s): Crispin Hiley (UCL/UCLH) and Marcos Vasquez (UCL)
Radiotherapy (RT) is known to promote monocytes (MO) trafficking and differentiation into different subsetsat the irradiation site. We proposed to combine RT and the adoptive transfer of MO engineered to deliver inflammatory mediators in order to remodel the immune tumour microenvironment. We will characterise the impact of RT on MO differentiation within tumours as well as the potential role of MO-derived IL-12 as a tool for further reprograming of the immune tumour microenvironment towards an anti-tumour microenvironment.
 – Using machine learning to investigate telomere biology and mutation and pathological processes seen after delivery of radiotherapy for soft tissue sarcoma in the IMRiS clinical trial
Main Applicant: Nischalan Pillay (UCL)
Co-Applicant(s): Beatrice Seddon (UCL), Franel Le Grange (UCL), Mahbubl Ahmed (UCL), Peter Van Loo (Crick), Matthew Fittal (Crick), Kevin Bryson (UCL) and Chris Barnes (UCL)
We will study the molecular processes seen in tumours of patients who have completed pre-operative radiotherapy for soft tissue sarcoma (STS) in the CRUK-funded IMRiS clinical trial. This hypothesis-generating study will investigate the role of (i) telomere biology in radiosensitivity, (ii) mutational signatures including DNA repair pathways, (iii) machine learning models to develop molecular predictive biomarkers, with the aim of producing data for future validation studies and a prospective clinical trial.
 – Dissecting radio-resistance in head and neck squamous cell carcinoma, by applying artificial intelligence approaches to digital pathology and molecular profiles, of primary and recurrent tumours following radiotherapy
Main Applicant: Anita Grigoriadis (KCL)
Co-Applicant(s): Selvam Thavaraj (KCL), Anthony Kong (KCL), Sebastien Ourselin (KCL) and Rhonda Henley-Smith (GSTT)
Primary or adjuvant radiotherapy is part of the curative treatment modality in head and neck squamous cell carcinoma (HNSCC). In >50% of high-risk patients, radio-resistance leads, however, to treatment failure and recurrence. Concurrent chemotherapy sensitises HNSCC patients to radiotherapy and increases their overall survival, but due to a concern of immunosuppression and a higher risk of COVID-19 mortality, concomitant chemotherapy is currently omitted. This provides us with the opportunity to dissect responses solely attributable to radio-resistance, and to identify patients for whom the addition of chemotherapy is unlikely to provide further survival benefit. Here, we propose to use artificial intelligence (AI) methods on digitised pathological images and genomic profiles of HNSCC, to identify such radio resistance specific features in patients who undergo radical radiotherapy with or without concurrent chemotherapy before and during COVID-19 crisis.