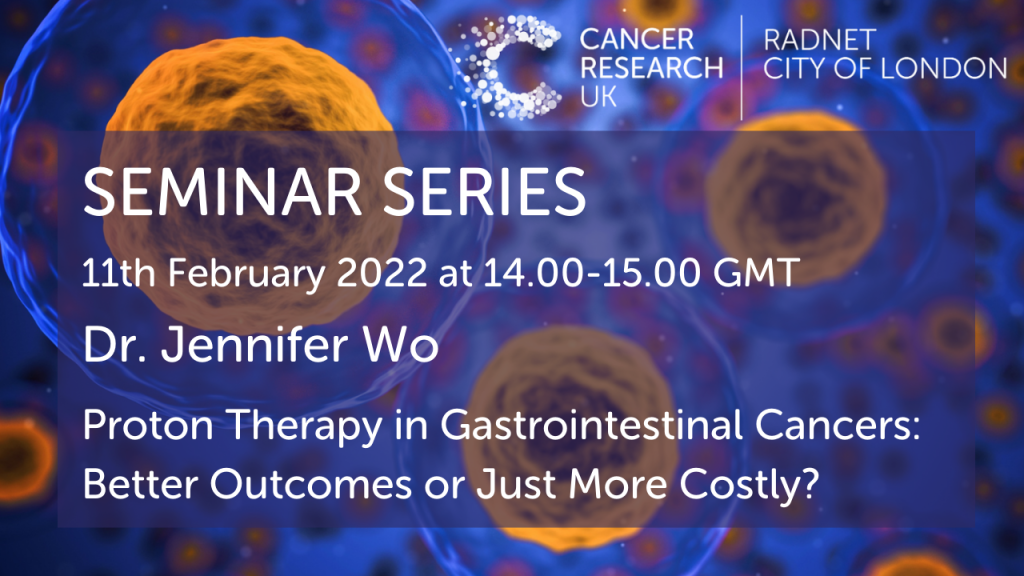 CRUK RadNet City of London Seminar Series #15
'Proton Therapy in Gastrointestinal Cancers: Better Outcomes or Just More Costly?'
Friday, 11th February 2022 at 2:00 – 3:00pm GMT
Hosted by Maria Hawkins, Clinical Director of CRUK RadNet City of London and Professor in Radiation Oncology from University College London, we warmly welcome Dr. Jennifer Wo, M.D, Radiation Oncologist of Boston Massachusetts General Hospital and Associate Professor at Harvard Medical School, to join us and deliver a seminar talk on 'Proton Therapy in Gastrointestinal Cancers: Better Outcomes or Just More Costly?'
About our speaker:
I grew up in Holmdel, NJ and I received a Bachelor of Arts in both Biology and Business Economics in 2001 at Brown University. Subsequently, I graduated from Columbia University College of Physicians & Surgeons in 2005. I completed my preliminary medicine internship at Mount Auburn Hospital in Cambridge, MA, and my radiation oncology residency in the Harvard Radiation Oncology Program. In my last year, I was elected as Co-Chief Resident of the Harvard Radiation Oncology Program.
Since graduating residency in 2010, I have remained on staff at Massachusetts General Hospital where I specialize in Radiation Therapy for Gastrointestinal Malignancies. I currently hold the rank of Associate Professor at Harvard Medical School. I have served as an Associate Senior Editor of the Gastrointestinal Section for the International Journal of Radiation Oncology, Biology, and Physics, and I have more than 80 publications to date.
My research has primarily focused on the predictors of outcomes and toxicity for RT for GI cancers, and I served as PI as a prospective feasibility study for definitive chemoradiotherapy for proton beam in the treatment of anal cancer.
To watch the recorded seminar, please click here.