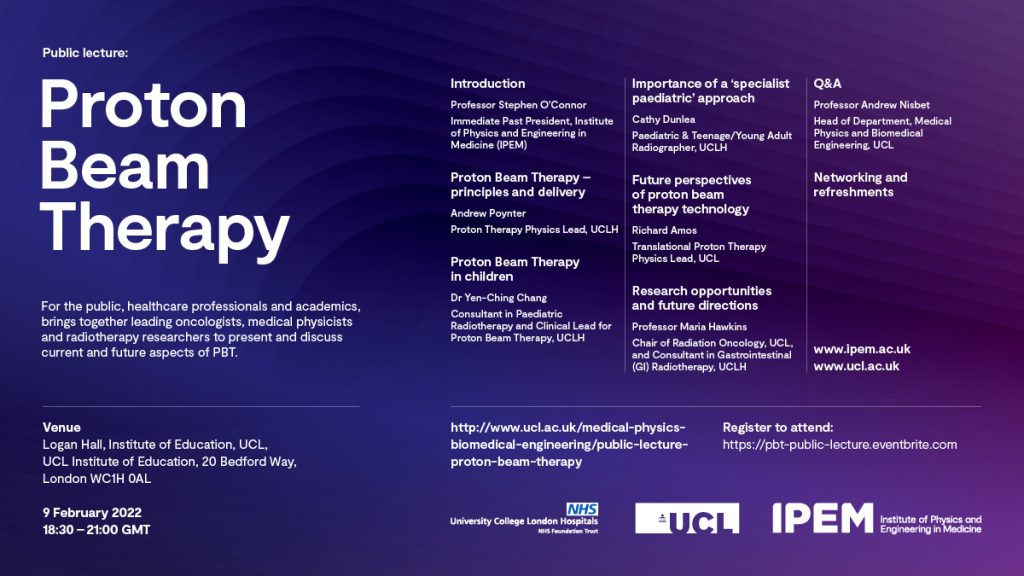 *UPDATE*
Due to the rising cases of COVID infections, it has been decided to postpone this event to a later date yet to be confirmed.
Proton Beam Therapy Public Lecture
Wednesday 9 February 2022, 6.30pm – 9pm, Logan Hall, UCL Institute of Education
High energy Proton Beam Therapy (PBT) is a type of radiotherapy that uses a beam of high energy protons to treat specific types of cancer. Following ten years of provision under the Proton Overseas Programme, which provided treatment abroad to over 1100 patients with costs met by the NHS, PBT began in England in 2018, with the opening of the Proton Beam Therapy Centre at The Christie in Manchester. The second NHS centre will open at University College London Hospitals NHS Foundation Trust (UCLH) in late 2021.
This lecture, for the public, healthcare professionals and academics alike, brings together leading oncologists, medical physicists and therapeutic radiographers to present and discuss current and future aspects of PBT, including:
The principles and delivery of PBT
PBT and children
The future of PBT
Research opportunities
Q&A with our experts
Refreshments and networking will follow the lecture (from around 8pm).
More information on speakers: https://www.ucl.ac.uk/medical-physics-biomedical-engineering/events/2022/feb/public-lecture-proton-beam-therapy
Registration: https://pbt-public-lecture.eventbrite.com