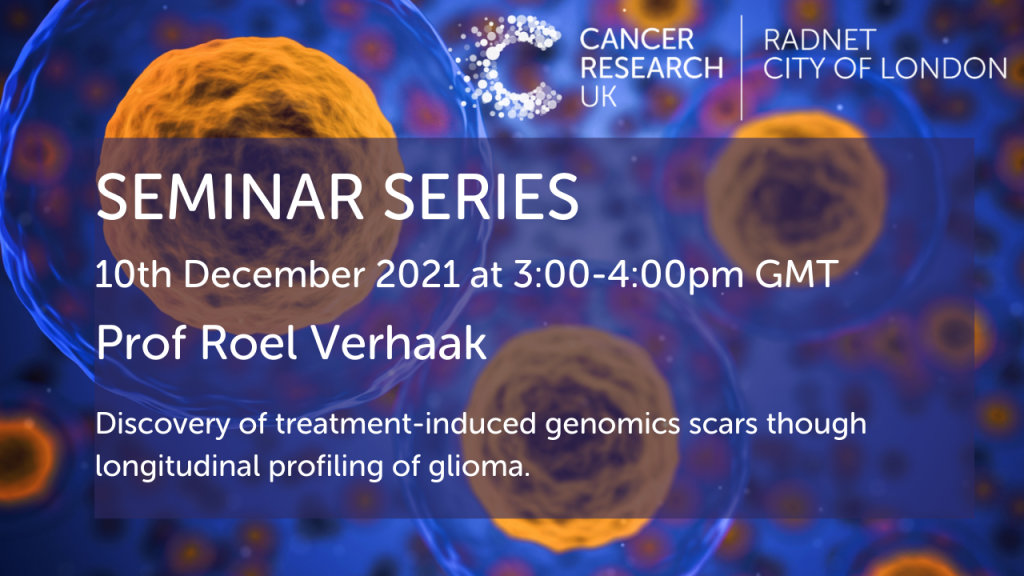 CRUK RadNet City of London Seminar Series #13
'Discovery of treatment-induced genomics scars though longitudinal profiling of glioma'
10th December 2021 at 3:00 – 4:00pm GMT
Hosted by Dr. Lucy Brooks, senior research fellow from University College London, we will have a seminar talk on 'Discovery of treatment-induced genomics scars through longitudinal profiling of glioma' with guest speaker, Roel Verhaak, Professor, Florine Deschenes Roux Chair and Associate Director of Computational Biology , from the Jackson Laboratory for Genomic Medicine.
About our speaker:
Roel Verhaak, PhD., is a Professor and Associate Director of the Jackson Laboratory for Genomic Medicine in Farmington, Connecticut. The Verhaak lab studies glioma using genomic characterization and computational analyses, work that has helped redefine the way glioma in adult patients is classified. More recent efforts are focused on tumor evolution, which the lab is investigating using longitudinal tumor sequencing, single-cell sequencing, and via comparative oncology approaches.
Roel Verhaak is a recipient of the AAAS Wachtel Award, the Agilent Early Career Professor Award, and the Peter Steck Memorial Award. He is a co-founder of Boundless Bio, a biotech company developing therapies against cancers containing extrachromosomal DNA amplifications.
To watch the seminar, please click here.