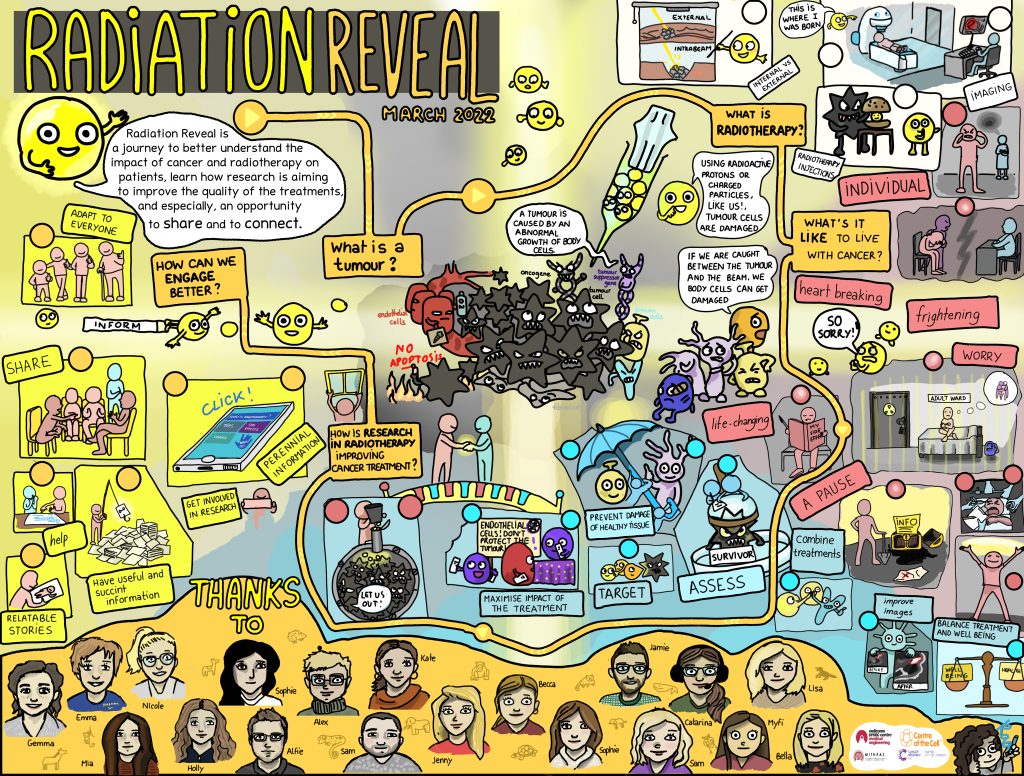 Radiation Reveal is a creative and collaborative public engagement project. This multi-partnership project brought together 10 young adults (19-25) who had radiotherapy treatment for cancer with researchers who are part of the Cancer Research UK RadNet City of London. We worked with Centre of the Cell, a science education centre based at Queen Mary, University of London, to develop and deliver a series of 3 workshops.
These workshops allowed the young adults to share their stories while also connecting them with biology, physics and oncology radiation researchers. The researchers gained an understanding of patient experiences of cancer and treatment. The project also aimed to produce a resource to help future patients.
Young adults shared experiences of being young and diagnosed with cancer, of their radiotherapy treatment, the side effects they'd experienced and their worries about other late effects. They spoke about measures they'd taken to protect their future fertility. What was clear from this project was the importance of support, especially peer support. A few participants said this was the first time they'd been able to speak to people of a similar age who had been through cancer and treatment. All of the young adults were keen to give something back and turn a negative experience into something positive.
The group came up with a list of top tips for healthcare professionals involved in radiotherapy:
Fully explain side effects
Check up on how a patient's skin is doing, ask if it's sore
Think about things to help with claustrophobia
Sometimes people might need a break, for example if they've just had chemo
If possible, arrange treatment at the same time each day
Explain what's going to happen and why so young people fully understand, don't just talk to parents
For radioactive iodine treatment – let patients see the room before their treatment starts so they know what to expect
Everyone should have access to good information and treatment no matter where in the country they live
Ask about peer support
Remember that we're young people first and patients second.
About the researchers
Rebecca Drake, a 2nd year PhD student at the Barts Cancer Institute at Queen Mary's University of London. Becca's research is looking at how we can make radiotherapy work better by targeting the blood vessels supplying the tumour.
Catarina Veiga is a Senior Research Fellow at the Department of Medical Physics and Biomedical Engineering at University College London. Catarina's research focusses on reducing the incidence of harmful conditions in later life associated with having radiotherapy during childhood.
Jamie Dean is a Junior Group Leader at University College London. Jamie's research group uses computer modelling to understand the responses of tumours and normal tissues to radiotherapy. They then use this knowledge to develop new treatment strategies to increase survival and reduce side effects.
Dr Samantha Terry is a Senior Lecturer in Radiation Biology at King's College London. Sam's group works in the lab determining how different types of radioactivity can be best used in the clinic.
Sophie Langdon is a PhD student at King's College London. Sophie's research is looking at how different treatment types can be combined to help patients suffering from head and neck cancers. Sophie's main focus is examining how radiotherapy can be best combined with immunotherapy treatments to help improve patient outcomes.
I just wanted to thank you for organising the Radiation Reveal workshops which have been so insightful for me and motivating for my work. I have been speaking to other colleagues at work and many are really interested in gaining better patient/clinical perspective, as we so easily lose sight of the bigger picture(Researcher QMUL).
Dr Lisa Whittaker, Project Coordinator: Lisa.whittaker@kcl.ac.uk