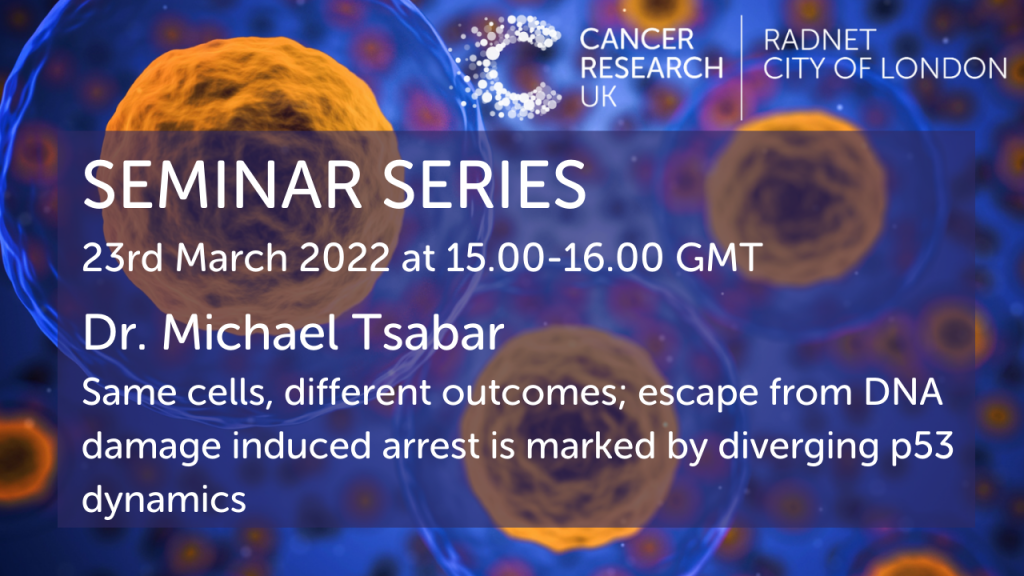 CRUK RadNet City of London Seminar Series #17
'Same cells, different outcomes; escape from DNA damage induced arrest is marked by diverging p53 dynamics'
Wednesday, 23rd March 2022 at 3:00 – 4:00pm GMT
Hosted by Dr Rita Pedrosa, group leader from Barts Cancer Institute, we warmly welcome Dr. Michael Tsabar from the Lahav Lab in Harvard Medical School, to join us and deliver a seminar talk on 'Same cells, different outcomes; escape from DNA damage induced arrest is marked by diverging p53 dynamics'
About our speaker:
Being a scuba dive instructor, I had great interest in sea life from early on. I pursued a BSc in Marine Biology from Ruppin Academic Center in Israel (where I was born).
During my BSc I developed a strong interest in genetics and molecular biology. I was accepted to the graduate program at the Weizmann institute of Science, but after one year family circumstances led me to move to Cambridge MA, where I pursued my PhD at Brandeis university, studying homologous recombination and DNA damage pathways in budding yeast at Prof. James (Jim) Haber's lab.
At the Haber lab, I focused mainly on choices cells make in response to DNA damage and repair, realizing that these choices differ between different cells even in highly isogenic systems that experience uniform stimulus.
I therefore joined Prof. Galit Lahav's lab for my postdoc. The Lahav lab uses live-cell imaging to study dynamics of signaling networks in response to various stimuli, with a focus on the dynamics of the tumor suppressor p53. My interest lies at understanding non-genetic heterogeneities in response to stimuli.
The work I'm going to discuss described heterogeneity in p53 dynamics in response to ionizing irradiation, a response that was previously thought of as being very uniform.
To view the recorded seminar, please click here.