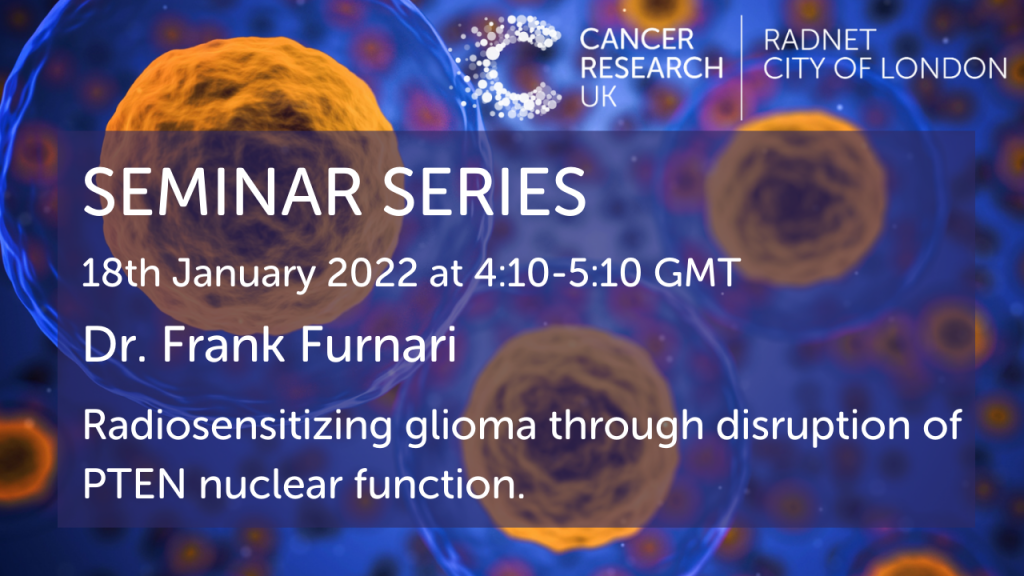 CRUK RadNet City of London Seminar Series #14
'Radiosensitizing glioma through disruption of PTEN nuclear function'
Tuesday, 18 Jan 2022 at 4:10 – 5:10pm GMT
Hosted by Dr. Lucy Brooks, senior research fellow from University College London, we will have a seminar talk on 'Radiosensitizing glioma through disruption of PTEN nuclear function' with guest speaker, Frank Furnari, Ph.D, Ludwig Institute for Cancer Research, UCSD-Department of Medicine.
About our speaker:
Dr. Furnari earned his PhD in microbiology from the University of North Carolina-Chapel Hill where he studied cis-elements and trans-acting factors regulating expression of Epstein-Barr Virus (EBV) lytic replication genes. He subsequently joined the Ludwig Institute in San Diego as a postdoctoral fellow where he focused on the genetic alterations that drive the genesis of glioblastomas, notably the commonly amplified and truncated epidermal growth factor receptor gene (known as EGFRvIII) and mutation of the PTEN gene. During his postdoctoral studies, Dr. Furnari was credited with seminal work demonstrating the ability of PTEN to suppress glioma cell growth mediated through the enzyme's lipid phosphatase activity.
Currently, Dr. Furnari is Member and Head of the Laboratory of Tumor Biology at the Ludwig Institute as well as Professor of Medicine at UCSD. His lab has made significant contributions to our fundamental understanding of mechanisms underlying therapeutic resistance in glioma, functionality of tumor heterogeneity, and the evolution of adult and pediatric brain tumors through genetic engineering of human pluripotent stem cell-derived avatar models.
His recognition in the field of glioma biology is highlighted by scholar awards from the V, Kimmel and Goldhirsh Foundations, Awards for Basic and Translational Research from the Society for Neuro-Oncology, and by his service as associate editor for Neuro-Oncology, advisory board positions for the National Brain Tumor Society, the Society for Neuro-Oncology and the Sontag Foundation. He is also co-founder and a scientific advisor for Trotana Therapeutics.
To watch the seminar, please click here.