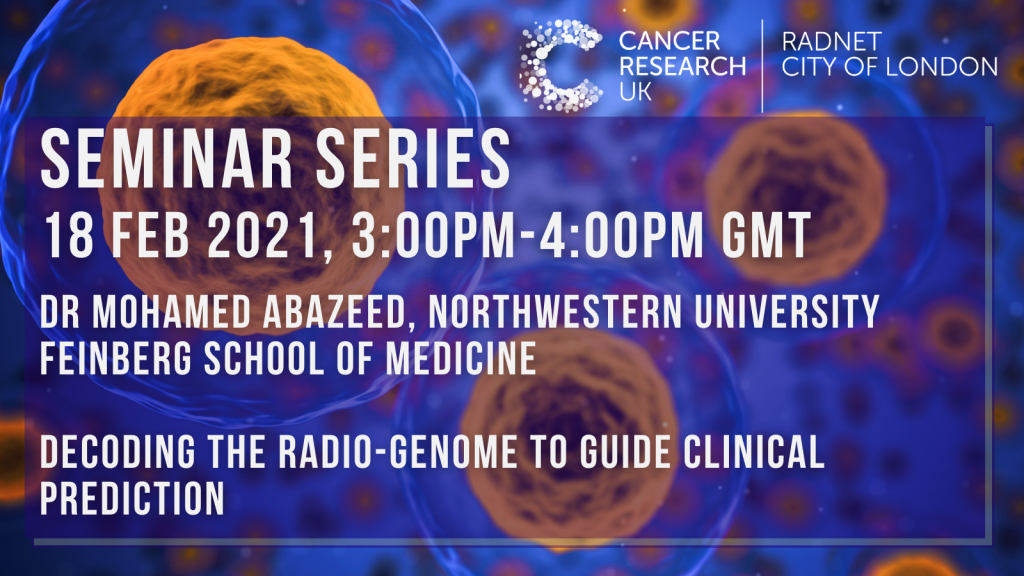 CRUK RadNet City of London Seminar Series #3
18th February 2021 at 15:00 – 16:00
Hosted by Dr Crispin Hiley, Radiation Oncology Consultant at UCLH and Associate Professor at the UCL Cancer Institute, we will be giving a talk from Dr Mohamed Abazeed, Associate Professor of Medicine at Northwestern University and the Scientific Director of the Lung Cancer Program in the Lurie Cancer Center.
Topic: Decoding the radio-genome to guide clinical prediction
Dr. Abazeed is a radiation oncologist and physician scientist who uses trans-omic approaches in order to improve the personalization of cancer treatments. His clinical research efforts are focused on improving therapies for thoracic cancers, including the initiation of investigator-initiated theranostic studies. He has made several contributions to identifying tumor mutations that predict resistance to therapy. Using his training and background in computational biology, genetics, and imaging, he has also applied and developed tools to advance approaches for personalized cancer treatment, especially for patients treated with ionizing radiation. His cancer biology research efforts are focused on improving our understanding of tumor development and overcoming treatment resistance. Supporting his group's translational efforts is the development of large-scale clinomic datasets (~1000 cases) that integrate detailed clinical information, patient-derived xenografts, and genomic features. His team routinely employs tools from genomics, bioinformatics, computational modeling, and tumor biology in their work.
Dr. Abazeed is currently an associate professor at Northwestern University's Feinberg School of Medicine, the Scientific Director of the Lung Cancer Program, and the inaugural Director of the Center for Precision Radiotherapy in the Department of Radiation Oncology. He received his MD/PhD degrees from the University of Michigan with a research focus in genetics. During his residency training at the Harvard Radiation Oncology Program, he was the Leonard B. Holman Research Fellow and conducted his training at the Broad Institute, a global leader in cancer genomics.
View the full seminar below: